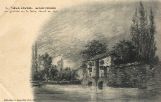 Le Joli Saut (Pont Charlemagne)
Close to the old slaughter-houses of the city, in the district of Chaillouet, one can see Charlemagne Bridge, formerly called "Joli Saut" (Pretty Jump) or "Saut Perilleux" (somersault), which spans the Cordé canal, called the Nervaux canal in this stretch. It bore a turret known as Count Thibaut's tower, from which the stone base can still be seen today.
---
The arches of the "Noyer aux enfants" bridge spanned the Meldançon canal, which disappeared in the 19th century. One can still see the base of a large tower on the left, called Tour Barbazan.