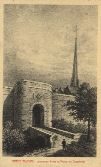 Porte de Comporté, by Dieudonné Royer
The Comporté gate already existed in the 12th century, and it was Jean Guaylde again who undertook to rebuild it in 1508. It was destroyed in 1848.

Originally, Madeleine's Gate was a tower pierced by a gate, which appeared during the 14th century (?). In a very bad state at the beginning of 18th century, it was rebuilt in the style of the time by Denis Millot in 1740, to finally disappear in 1849.